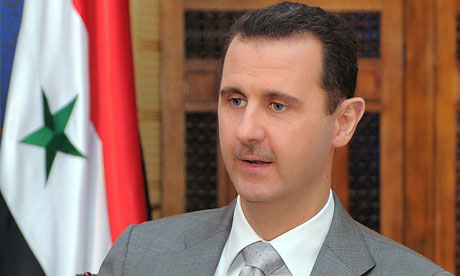 The Guardian of London is reporting
that "a cache of what appear to be several thousand emails received and sent by the Syrian leader (Bashar al-Assad) and his wife" were "intercepted by members of the opposition Supreme Council of the Revolution group between June (2011) and early February (2012)."
The Guardian was given the entire lot of emails and the newspaper "made extensive efforts to authenticate the emails by checking their contents against established facts and contacting 10 individuals whose correspondence appears in the cache. These checks suggest the messages are genuine, but it has not been possible to verify every one."
Among the revelations is the role of Iran in advising Mr. Assad:
The emails appear to show that Assad received advice from Iran or its proxies on several occasions during the crisis. Before a speech in December his media consultant prepared a long list of themes, reporting that the advice was based on "consultations with a good number of people in addition to the media and political adviser for the Iranian ambassador".

The memo advised the president to use "powerful and violent" language and to show appreciation for support from "friendly states". It also advised that the regime should "leak more information related to our military capability" to convince the public that it could withstand a military challenge.
The emails "appear to show the president's wife spending thousands of dollars over the internet for designer goods while he swaps entertaining internet links on his iPad and downloads music from iTunes."
As the world watched in horror at the brutal suppression of protests across the country and many Syrians faced food shortages and other hardships, Mrs Assad spent more than £10,000 on candlesticks, tables and chandeliers from Paris and instructed an aide to order a fondue set from Amazon.
Some interesting revelations contained in the emails:
• A daughter of the emir of Qatar, Hamid bin Khalifa al-Thani, this year advised Mr and Mrs Assad to leave Syria and suggested Doha may offer them exile.

• Assad sidestepped extensive US sanctions against him by using a third party with a US address to make purchases of music and apps from Apple's iTunes.

• A Dubai-based company, al-Shahba, with a registered office in London is a key conduit for Syrian government business and private purchases of Mrs Assad.
After the Anonymous hacker group was caught breaking into various Syrian government email addresses, the Assad email account went silent:
The access continued until 7 February, when a threatening email arrived in the inbox thought to be used by Assad after the account's existence was revealed when the Anonymous group separately hacked into a number of Syrian government email addresses. Correspondence to and from the two addresses ceased on the same day.