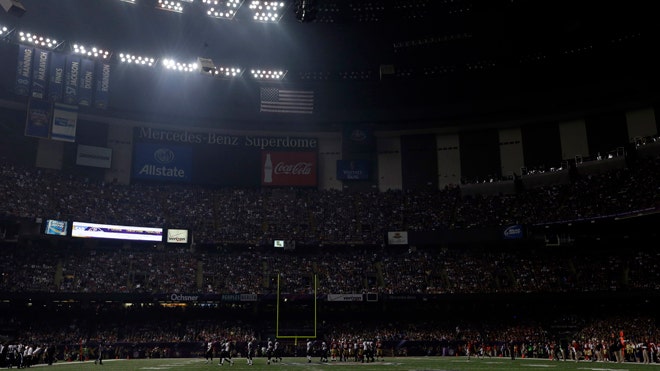 It turns out
the answer to the mysterious 34-minute power outage
at the Super Dome in New Orleans during the Super Bowl had a terribly mundane cause: The local electric utility, Entergy New Orleans, set the trip setting too low on a circuit breaker.
The manufacturer of a protective device blamed in the power outage that interrupted the Super Bowl said a low "trip setting" on the equipment caused the partial blackout in the Superdome. Friday's statement from S&C Electric Co. of Chicago said the outage would have been avoided if the operator of the relay device had set the trip threshold higher. The statement did not name the operator, but the equipment was owned and installed by Entergy New Orleans, the local electric utility company that supplies power to the dome. Earlier Friday, Entergy said the device was the cause of the power outage.
In essence, what happened is the same thing as a circuit breaker in your house shutting off electric flow if you have too many appliances running on one circuit.
Here is what Wikipedia says about circuit breakers:
A circuit breaker is an automatically operated electrical switch designed to protect an electrical circuit from damage caused by overload or short circuit. Its basic function is to detect a fault condition and, by interrupting continuity, to immediately discontinue electrical flow. Unlike a fuse, which operates once and then must be replaced, a circuit breaker can be reset (either manually or automatically) to resume normal operation. Circuit breakers are made in varying sizes, from small devices that protect an individual household appliance up to large switchgear designed to protect high voltage circuits feeding an entire city.